SWITCHING TO FITNESS
12 Week Better Body Programme
This programme will take you from being out of shape and gym-shy to feeling and looking your best!
When you sign up to the programme and commit to working hard, doing everything we ask of you, we guarantee you will:
Have significant fat loss*

A stronger, leaner body

A more athletic shape 

Knowledge of how to get fit, lose weight and stay fit for life

Enjoy better moods, a happier outlook and a feeling of optimism

More functional strength and coordination for everyday life

A better relationship with food and the tools to maintain an ongoing healthy weight eating delicious foods
Modern life often means we spend too much time sat on our bums, hardly moving, eating rubbishy fat and sugar loaded 'foods' and have so much stress/work long hours/big commitments that by the end of each day we are so exhausted it is all we can do to slump on the couch with health and vitality being a distant memory we left behind years ago at school.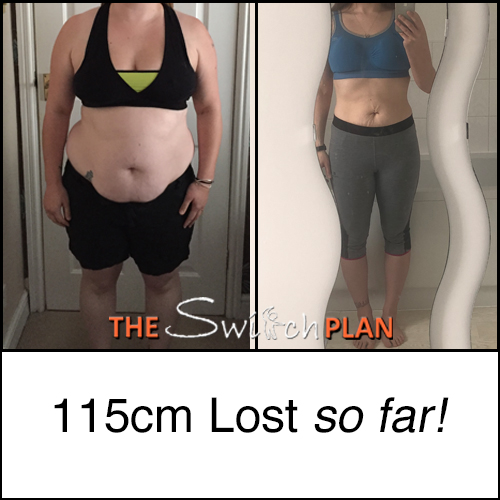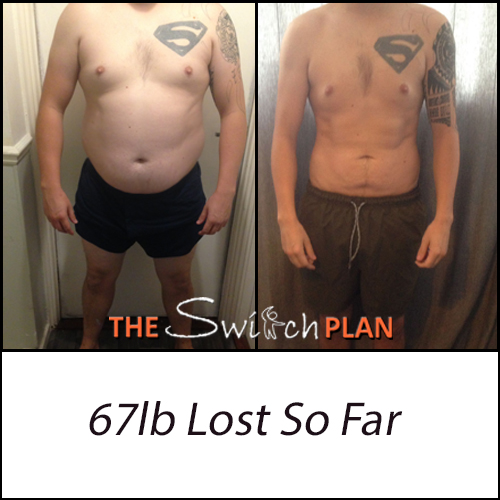 Well, it does not have to be that way! It is absolutely possible and even inevitable, that if you make some precise, simple and consistent changes you can reverse the impact that modern life is having on your body, your energy levels and your moods.
You do not have to be overweight, exhausted or demotivated. You can be healthy, slim, energetic and happy! It is possible for you to feel and look great within just a few weeks.
Now we are not saying that you do not have to make some changes – you do, and some of these might be tough at first, but once you begin to see the inevitable benefits that consistency and a little hard work brings, then your motivation will skyrocket!
The 12 week SWITCHING TO FITNESS programme incorporates diet and fitness components to bring you ultimate success –
James will provide you with a totally personalised weight loss programme that will ensure continuous fat loss over the 12 week programme and beyond if you choose, so you can say goodbye to your bingo wings and muffin top in 2019.
Tracey will support you with a comprehensive training plan that will enable you to start the foundations of building your best body. You will learn how to use the gym in a way that produces the results you want and learn how to train using all of the equipment in the gym, so that you can be a confident user of any gym you choose to join.
For so many people who want to get a better body or have a healthier lifestyle, going to a gym or understanding what works can be a minefield that puts you off before you even start. It is our job at Switch to help you get the results you want and to enable you to learn how to maintain your weight and improve your fitness for the rest of your life.
The SWITCHING TO FITNESS programme is NOT a short term solution that means you will be looking for the next fad diet or unsustainable exercise fix this time next year.
This programme gives you knowledge and practice for life – the 12 week Switching to Fitness programme will help you to build the foundations of a healthier, stronger, happier life looking your very best and then to maintain that into the future.
The SWITCHING TO FITNESS Programme offers:
Membership of The Switch Plan Online Diet and full personalised support from James. This powerful and effective eating plan will drive your fat loss.

A fully personalised Switching to Fitness programme that will enable you to get fitter and to create that stronger, leaner, toned body that you always wanted.

1.5 hour initial assessment and goal setting session where you can discuss your goals and lifestyle requirements with us and we can assess where you are and then build a plan that works for your lifestyle and preferences.

Monthly tracking of your progress – weight, inches, strength, fitness – this ensures we can tweak your programme so that you stay on track to reach your goals.

Instruction on gym usage and the different types of equipment and what they do, training methods and approaches, putting together a session plan for yourself using basic essential elements.

Different methods – bodyweight exercise/callisthenics, resistance training using machines and free weights, kettlebells, bags, resistance bands, cardiovascular/endurance etc

The opportunity at the end of the 12 week period to take your goals to the next level, ready for Summer 2019.

One Personal Training Session per week with Tracey.
WHO IS THIS FOR?
We are looking for clients who really want to make a change and who will go the distance and beyond with consistency and who will commit to doing the necessary homework and lifestyle change it will take to be successful.
The programme is fully personalised so the goals we set together will be achievable in the 12 week timeframe, but only if you are fully accountable and hold to the plan we develop for you – this is about YOU taking responsibility for your achievement and for US to instruct, guide and support you.
Any achievements are YOURS and any 'failures' require you to be resilient and get back on plan and back to being focused on what you have to do for that day.
The success of the plan and achieving your goals requires you to be consistent and we will be with you every step of the way – we use WhatsApp to stay in touch with you and if you are struggling, just text us, we love to hear from you!
The programme price is £345 which can be paid in 3 instalments of £115 in advance at the beginning of each 4 week period.
All assessment and training sessions will be held at the Britannia Hotel Gym in Daresbury and the Switch Plan Diet is online.
*fat loss goals are set with each client
If you are interested and would like more information simply send Tracey a text message on ‭07734 722421‬